Advocates

of a Universal Living Wage
See who our supporters are across the nation and the world!
We recognize that every entity will not immediately be able pay a Universal Living Wage. To this end, we are encouraging these organizations that embrace our basic moral premise to:
Officially endorse the concept
Pledge to work over the next few years to bring employee wages in line with the Universal Living Wage formula relative to their locality.
Additionally, we encourage business, non-profits and governmental entities to adjust their budgets and acknowledge employers who already provide health care and dental benefits for their workers.
Check out our star supporters in your area or association and give them a "
Shout out

."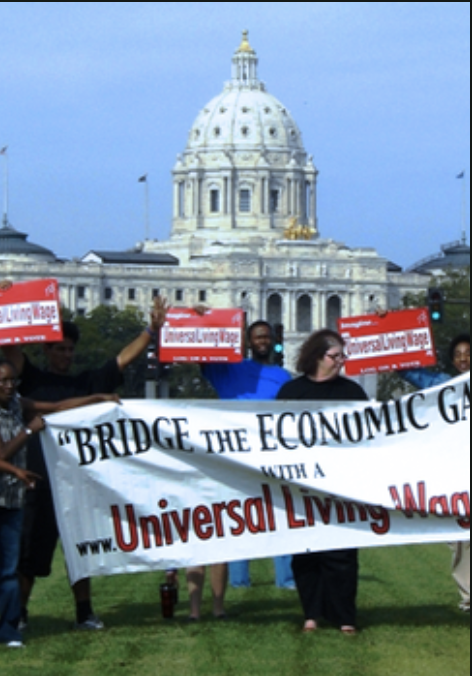 BALDWIN COUNTY
Habitat for Humanity
BHAM
Christian Service Mission
SEIU Local 121 RN
UAW Local 115
BIRMINGHAM
Birmingham Health Care
Greater Birmingham Ministries
CWA Local 3903
Metropolitan Birmingham Services for the Homeless
UBCJA/ SCIW 2401
FLORENCE
Safeplace Inc
HUNSTVILLE
New Futures
UAW Local 1413
MOBILE
Franklin Health Center Inc
Homeless Coalition of the Gulf Coast
MONTGOMERY
Alabama Appleseed Center for Law & Justice
Alabama Arise
Alabama Coalition Against Hunger
Montgomery Community Action Inc

American Friends Service Committee
ANCHORAGE
Alaska State Coalition on Housing and Homelessness
Alaska State Coalition for the Hungry and Homeless
Anchorage Council of Bldg & Construction Trades Union
Beans Cafe
The Brother Francis Shelter
Catholic Social Services
Mental Health Consumer Web Clubhouse
YWCA of Anchorage
FAIRBANKS
Fairbanks Central Labor Council AFL-CIO
Laborers Intl Union of No Am 942
Sheet Metal Workers Union Local 23
SALIKOT​
MSMIAN & Sons

Southwest Center for Economic Integrity
Spirit of Service Inc​
FLAGSTAFF
Northern Arizona Veterans For Peace/ "Buddy Day" Chapter 108
GLOBE
IBEW LU 518
MEZA
Save the Family Foundation of Arizona
PHOENIX
The Arizona Coalition to End Homelessness
City Life News and Publishing Co *
Community Informational Services
CWA Arizona State Council AFL-CIO
Habitat for Humanity Valley of the Sun
IATSE Local 875
Phoenix Consortium for the Homeless
Professional Musicians of Arizona,
AFM 3586
United Here 631
WHEAT
PRESCOTT
Prescott Area Habitat for Humanity
TEMPE
Communication Workers of America,
Local 7050
TUSCON
Border Links
Brewster Center Domestic Violence Services Inc
Interfaith Coalition for the Homeless Inc
PPEP Microbusiness & Housing Dev Corp
Primavera Foundation
* Renewal

American Friends Service Committee
Arkansas Communication Workers of America
COLLEGE STATION
College Station CDC
FORT SMITH
IBEW Local Union 700
JONESBORO
IBEW Local 1516
LITTLE ROCK
​Arkansas Foodbank Network
The Arkansas Hunger Coalition
Central Arkansas Building Construction & Trades
Central Kansas Library System
Central Arkansas Labor Council
Moody Chapel AME Church
Painters Local Union 424
Watershed Human Development Center

AMBER PA
Down to Earth
ANNAPOLIS MD
Aurora Energy LLC Business
ARLINGTON VA
Arlington Street Peoples Assistance Network
ATLANTA GA
ifPeople Inc
AUSTIN TX
American Video Tape Service Center
Austin Area Employers Collaborative
Banner Sign and Graphics
Bicycle Sport Shop
Brick Oven Restaurant
C Van R Automotive
Cecilia M Wood Attorney and
Counselor at Law
Clayworks Studio/Gallery
Clip Joint Natural Hair Salon
Cohen and Associates
DC Mitchell/Construction
Dr Singha's Natural Therapeutics Inc
Eco-Wise
Flick Report-The Leading Commercial
Real Estate Magazine in the Austin Metro Area
Forbidden Fruit
Hatch Partnership Architects
HSR Construction
IE Inc
INNU Salon
Motor Blade Postering
Planet K
Richard Rodgers Consulting
Steelbeam
The Good Life
The Natural Gardner
Transformations Remodeling
Venus Rouhani DDS PC Dental Practice
Wheatsville Co-Op
Whole Earth Body Works
BAINBRIDGE ISLAND WA
Progressive Kid
BAY VILLAGE OH
George Randt MD
BETHESDA MD
Calvert
BOSTON MA
No American Street Newspaper Assoc-
North Star Asset Management
BOYDS MD
UPAYM Crafts
BRONX NY
Starline Baker
BROOKLINE MA
Cottonfield LLC
BURLINGTON VT
Seventh Generation
CHAPEL HILL NC
The Change
CHICAGO IL
The Pollution Solution
COLUMBIA MD
Adrienne Spence Act Data Base
CORALVILLE IA
Service Employees International Union Local 199
DRIPPING SPRINGS TX
Tank Town LLC
FLORENCE MA
Suki Inc
FLOWER TX
Cardio Vascular On-Call Specialists
FLUSHING NY
Street News Indio
FORT COLLINS CO
Authentic Alternatives
GRAND RAPIDS MI
Clothing Matters
HERMON ME
OHI
HOUSTON TX
Colores Del Pueblo
JACKSONVILLE FL
Florida State Lawn Care
KANSAS CITY MO
Susan Ray Consulting
LAS VEGAS NV
Global Property Management Group Inc
LITTLETON CO
Global Girlfriend
LOS ANGELES CA
American Apparel
Team X Inc/Sweat-X
LUGOFF SC
Elm Place Wedding Chapel
MARKS MI
Quitman Tri-County Fed Credit Union
MEDINA OH
QDROS.com
MELBOURNE FL
Terra Sancta Press Inc
MILLWOOD VA
Body Harmony
MISSOURI
The Christian Times
MISSOULA MT
Montana Community-Labor Alliance/
Jobs with Justice
MONTROSE CO
Colorado Yurt Co
MOUNT REST SC
MoreSun Custom Woodworking Inc
NEW LONDON CT​
Flavours of Life LTD
NEW PALTZ NY
Mid-Hudson Labor Religion/ Jobs with Justice
NORFOLK VA
Tomorrow's World
NORTH HOLLYWOOD CA
Greg Braindel at Career Dreams Inc
OAKLAND CA​
Laborers' Local Union 886
ODENTON MD
Wild Boar Creek LLC
ORLANDO FL
IATSE Local 631
PAWTUCKET RI
Mirror Image
PHOENIX AZ
City Life News and Publishing Co
PORTLAND OR
Alima Cosmetics Inc
Progressive Investment Management
PRESQUE ISLE ME
The Michalowski Group
ROLLINGWOOD TX
City of Rollingwood **
ROSEMONT PA
ELS Landscaping
ROUND ROCK TX
Cartridge World SE Texas
ROYAL VA
Mountain Mystic Trading Co
SAINT LAWRENCE NY
Dr Usdi Adisi Ahwi PhD NCA
SAN FRANCISCO CA
Gubb & Barshay LLP
SANDIA PEAK NM
Mcnab Design
SANTA CRUZ CA
Bee Bright
SHREVEPORT LA
A Different Approach Handicrafts Inc
SIALKOT AK
MSMIAN & Sons
SOUTH BEND IN
Just Goods
SPRINGBORO OH
Kinetic Independent Newspaper
STEAMBOAT SPRINGS CO
Epilogue Book Co
TAOS NM
Oatie Yum Yum
VAN NUYS CA
Kasper Organics
WASHINGTON DC
Community Innovators Inc
Co-op America
Friends of the Earth
WILLITS CA
OPEN CIRCLE
Organic Attire
WILMINGTON VA​
Line Sync Architecture
** Pays the Universal Living Wage

ALVISO
Gardner Family Health
BAKERSFIELD
IBEW Local 428
Kern Inyo & Mono Building Trades
BELL CANYON
Ms Lefkowitz's Jewish Law II Class
BERKLEY
Building Opportunities for Self-Sufficiency
Veterans Speakers Alliance/VFP Ch 69
BLOOMINGTON
UFCW Local 1167
BURBANK
NABET-CWA Local 53 (59053)
CARMEL
The Higgins Foundation
CASTROVILLE
IBEW Local 234
Monterey Bay Central Labor Council,
AFL-CIO
CONCORD
IAM Local 1173
CLAREMONT
Services Center for Independent Living
DALY CITY
OPEIU Local 3
DUBLIN
IBEW Local 595
EL CENTRO
Imperial County Building Trades Council
FORT BRAGG
Lighthouse Church
FOSTER CITY
Bldg & Construction Trades Council, San Mateo Co
San Mateo Co Central Labor Council AFL-CIO
FRESNO
American Friends Service Committee-Pan
Valley Institute
Drywall-Lathers Local 9083
GARDEN GROVE
UNITE HERE! Local 681
HOLLYWOOD
Los Angeles Youth Network
IRVINE
Women for Orange County
LOS ANGELES
Beyond Shelter
Coalition for Human Immigrant Rights of Los Angeles
Home and Community Inc
Homeless Health Care Los Angeles
JWCH Institute Inc
Korean Immigrant Worker's Advocates of So CA
LAMP COMMUNITY
Los Angeles Alliance for a New Economy
LA Coalition to End Hunger and Homelessness
MAZON Jewish Response To Hunger
SEIU 434B
Shelter for Homeless Women & Children
The So California Assoc of Non-Profits
UNITEHERE! Local 11
United Food & Commercial Workers Int'l Union, UFCW 770
Voice 4 Change
LUCERNE VALLEY
The Write Way
MARTINEZ
Contra Costa Homeless Ombudsperson
Shelter Inc of Contra Costa County
NORTH HOLLYWOOD
Greg Braindel at Career Dreams Inc
IATSE Local B-192
OAKLAND
CA Affordable Housing Law Project
Corp Watch
The East Oakland CDC
Health Care for the Homeless
Laborers' Local Union 886
Motion Picture Machine Operators IATSE Local 169
Women of Color
ORANGE
Orange Co Interfaith Coalition for Social Justice
PACIFICA
Grassroots Host
Half Moon Bay Mutual Benefit Center
PASADENA
Internntionsl Brotherhood of Electrical Workers Local Union 11
ROHNERT
Project Censored
SACRAMENTO
CA State Employees Association
Coalition of California Welfare Rights Organizations Inc
Housing California
Resources for Independent Living
Sacramento Homeless Organizing Committee
Sacramento Housing Alliance
Sacramento Mutual Housing Assoc
SAN DIEGO
American Friends Service Committee
Fair Housing Council of San Diego
IATSE 122 Union
IATSE Local 905
San Diego Coalition for the Homeless
US-Mexican Border Program
Western Regional Organization for Human Services Professionals
SAN FERNANDO
Northeast Valley Health Corp
SAN FRANCISCO
Coalition on Homelessness
Ecumenical Ministry in the Haight Ashbury
Gubb & Barshay LLP
Haight Ashbury Free Clinics
Housing America
The Housing Rights Committee of San Francisco
Religious Witness with Homeless People
San Francisco Hillel
San Francisco League of Urban Gardeners
Sign Display Local 510 ALF-CIO
Tenant Association Coalition of SF
TIDES Foundation
United Taxicab Workers
SAN JOSE
The Affordable Housing Network of Santa Clara County
Community Homeless Alliance Ministry
Community Technology Alliance
SAN RAFAEL
Drawbridge
Dominican Sisters of San Rafael
SAN MATEO
Int'l Brotherhood of Electrical Workers Local 617
SAN LUIS OBISPO
Peoples' Self-Help Housing Corp
SANTA ANA
Orange County Community Housing Corporation
SANTA CLARA
Roofers and Waterproofers Local 95
SANTA CRUZ
Bee Bright
OneDance: The People's Summit
Santa Cruz Co Coalition For A Living Wage
SANTA MONICA
UFCW Local 1442
SANTA ROSA
Living Wage Coalition of Sonoma Co
Veterans for Peace Ch 71 Sanoma Co
SOUTH LAKE TAHOE
Carpenters Local 1789
STOCKTON
Teamsters Local 601
UPLAND
Partners in Transportation
VALLEJO
Amalgamated Transit Union 1225
VAN NUYS
Kasper Organics
VISALIA
AFSC Farm Labor/Project Compesino
WATSONVILLE
New Native Inc
WILLITS
Open Circle
Los Amigos of Orange County

SINGER/SONGWRITER​
Sara Hickman

CASTLE ROCK
Violence Prevention Institute
The Women's Crisis Center
CLIFTON
IBEW Local 969
Commerce City
Access Housing
DENVER
The Colfax Community Network
Colorado Coalition for the Homeless
Denver Homeless Voice
Denver Urban Ministries
EarthLink
International Brotherhood of Electrical
Workers IBEW Local 69
Men's Health @ Denver Health Medical
Mercy Housing
St Francis Center
Samaritan House
Stout Street BRIDGES
Stout Street Clinic
The Uptown Partnership Inc
Urban Peak
ENGLEWOOD
Colorado Jobs With Justice
FORT COLLINS
Authentic Alternatives
GREELEY​
The Greeley Transitional House Inc
GREENWOOD VILLAGE
Communication Workers of America Dist 7
LITTLETON
Global Girlfriend
Monrose
Colorado Yurt Co
PUEBLO
IBEW Local 667
STEAMBOAT SPRINGS
Epilogue Book Co

FAIRFIELD
Operation Hope
HARTFORD
CSEA, SEIU Local 2001
CT AIDS Residence Coalition
Connecticut Association for Human Services
CT Primary Care Association
SEIU Local 760
INOIO
Coachella Valley Housing Coalition
NEW BRITAIN
American Federation of State, County, and Municipal Employees Council 4
NEW HAVEN
IATSE Local 74
South Central Connecticut Mutual Housing Association
NEW LONDON
Am Federation of Teachers Local 5049
Flavours of Life LTD
ROCKY HILL
Am Federation of Musicians Local 400
WALLINGFORD
CT Health Care Associates
NUHHCE
AISME
West Hartford IATSE Local

DOVER
Delaware Housing Coalition
Delaware State Homeless Coalition
Delaware State Ass'n of Tenants Inc
The Shepherd Place
NEWARK
Green Party of Delaware
SEAFORD
Better Homes of Seaford Inc
SMYRNA
Delaware Statewide Assoc of Tenants
WILMINGTON​
IBEW Local 1238
Saint Paul Church

WASHINGTON, DC
Capital Area Food Bank of Maryland, Virginia & Washington DC
The Coalition on Human Needs
Community Family Life Services Inc
Community for Creative Non-Violence
Community Innovators, Inc
CWA Local 2336
First Trinity Lutheran Church
Friends of the Earth
The Homeless Assoc Natl Connection
Homeless Children's Playtime Project
Nat'l Policy and Advocacy Council on Homelessness
Nonviolence International
Operation Enduring Independence
Pax Christie USA
Physicians for Social Responsibility
United Methodist Church
Washington Legal Clinic for the Homeless

City of Austin TX
Travis County TX Commissioners

Coalition for the Hungry and Homeless of Brevard County
Goldenrule Housing & CDC Inc
Homeless Coalition of Palm Beach
County Inc
Human Services Coalition of Dade County
Recovery of Choice​
BARTOW
Polk County Opportunity Council
BONITA SPRINGS
Community Empowerment Services
CHARLES MCKINNON
Naranja Princeton CDC
CHIPLEY
Plumbers & Pipefitters Local 592
CLEARWATER
Street Smarts Coalition Inc
COCOA
Coalition for the Hungry & Homeless IATSE Local 780
BRADENTON
Community Coalition on Homelessness
ENGLEWOOD
Domestic Abuse Shelter Homes
EUSTIS
Mid-Florida Homeless Coalition
FT LAUDERDALE
IBEW Local 728
No Broward Hosp Dist Health Care for the Homeless
FORT MYERS
The Southwest Florida Coalition for the Homeless
GAINESVILLE
Alachua County Coalition for the Homeless & Hungry Inc
Greenacres
Revitalax Victorian Resort Inc
HOLLYWOOD
CWA Local 3120
Homeless Voice/Florida
HOMOSASSA SPRINGS
Family Rescue Coalition of Citrus County
JACKSONVILLE
Office of Justice & Peace Diocese of
St Augustine
KEY WEST
Florida Keys Outreach Coalition for the Homeless
KISSIMMEE
The Transition House Inc
LAUDERHILL
Yettie's Outreach & Dev Corp
MAITLAND
Florida Coalition for the Homeless
MELBOURNE
Ascension Social Concerns
Green Party of Brevard
His Place Ministries
MIAMI
American Veteran Newspaper Inc
Better Way of Miami Inc
Camillo's Health Concern Inc
Community Coalition for a Living Wage
Florida ACORN
Miami Coalition for the Homeless Inc
So Florida Community Dev Coalition
So Florida Jobs with Justice
MILTON
Int'l Assoc of Machinists & Aerospace Workers Local 2777
MURDOCK
Charlotte County Homeless Coalition Inc
NAPLES
David Lawrence Center
St Matthew's House
NEW PORT RICHEY
Coalition for the Homeless of Pasco Co
Connections Job Dev Corp
OCALA
Friends Meeting of Ocala
ODESSA
Int'l Assoc of Machinists & Aerospace Workers Local 2319
ORLANDO
Ascension Social Concerns
Central Florida Voters Congress
United Community Dev Inc
Urban University Seminary
PALM BAY
St Joseph/St Vincent De Paul Society
PALM HARBOR
Benedict Haven
PEORIA
South Side Mission
POMPANO BEACH
KissMyLayOffcom
PORT CHARLOTTE
Charlotte County Homeless Coalition
REDDICK
IBEW Local 222
RIVIERA BEACH
Ironworkers Local 402
ROCKLEDGE
Brevard Federation of Teachers
SANFORD
David J Murphy RHCF Inc
SARASOTA
All Faiths Food Bank
Artisans' World Market Place
ST AUGUSTINE
Good Samaritan Health Centers Inc
Florida Impact-Diocese of St Augustine
ST PETERSBURG
American Federation of Musicians
Local 427-721
SUMMERLAND KEY
Habitat for Humanity of Key West & Lower Florida Keys Inc
TALLAHASSEE
Coalition for Family Safety
Florida Housing Coalition
The Tallahassee-Leon Shelter Inc
VENICE
Suncoast Professional Fire Fighters & Paramedics Local 2546
WEST MELBOURNE
Habitat for Humanity of South Brevard

Metro Atlanta/Georgia Task Force for the Homeless
ATLANTA
Agnes Scott College-Human Services Committee
Antioch Baptist Church
Atlanta Labor Council
Atlanta Union of the Homeless
Atlanta Women's Foundation
Children's Restoration Network
Columbus Housing Initiative
Rebecca Cartee
Covenant House
Georgia Citizens Coalition on Hunger
Georgia Coalition to End Homelessness *
Georgia Human Rights
Georgia Law Center for the Homeless
JD Lewis and Associates
Jerusalem House Inc
ifPeople Inc
Living Room
Mercy Housing South East
Rachel's Daughter
AUGUSTA
Heavenly Bound Homeless Coalition
Residential Connections Inc
Roofers Local 136
Tyler Place CDC Women's Economic Development
Women's Policy Group
The Young Adult Guidance Center Inc
COLUMBUS
Columbus Housing Initiative
Rebecca Cartee
Metropolitan Columbus Task Force for
the Homeless
CUMMI​NG
Habitat for Humanity of Forsyth Co
DECATUR
Empty the Shelter
Georgia Rural Urban Summit
MACON
Macon Outreach at Mulberry
ROME
Berry College Young Democrats
STONE MOUNTAIN
Georgia Employee Federation
VALDOSTA
So Central Georgia Task Force for the Homeless
Valdosta Project Change
* Renewal

HONOLULU
East Hawaii Coalition for the Homeless
Hawaii State AFL-CIO
Hawaii State Coalition Against Domestic Violence
Laborer's Union Local 368
Pacific Islanders/United Methodist Church
Waikiki Health Center
WAIANAE
WAIMAHA/Sunflower Residents Assoc Inc

Your Family, Friends and Neighbors
BOISE
Communication Workers of America
Local 7603
Helping Hand Inc *
The Idaho Food Bank
Idaho Women's Network
COEUR D'ALENE
St Vincient De Paul
KELLOGG
Silver Valley People's Action Coalition
LEWISTON
Lewiston/Clarkstone CLCID CWA State Council AFL-CIO, CLCWoodworkers W364 IAMAW
POCATELLA​
Ironworkers Local 732
* Renewal

Helping Hands of Springfield
Illinois Coalition to End Homelessness
Illinois Hunger Coalition
Lake Co Coalition for the Homeless
Statewide Housing Action Coalition
BENLD​
Tri-County Musicians Union Local 88
CENTRALIA
BCMW Community Services
COUNTRYSIDE
Automobile Mechanics Local 701 IAM &AW
CHAMPAIGN
Center for Women in Transition
CHICAGO
Bethel New Life
Breakthrough Urban Ministries
Chiapas Media Project
Chicago Coalition for the Homeless
Chicago Health Outreach
Chicago Jobs with Justice
Chicago Uptown Ministry
Deborah's Place
Illinois Maternal & Child Health Coalition
Interfaith Housing Center of the Northern Suburbs
Jewish Council on Urban Affairs
La Casa Norte
The Pollution Solution
Metropolitan Housing Development Corporation
Protestants for the Common Good
San Jose Obrero Mission
SEIU Local 73
Sisters of Mercy, Chicago Religious Justice Committee
Task Force Against Homelessness of
Universal Universalists for Social Justice
Will Feed Community Organization
FREEPORT
United Steel Workers of Am Local 745
DECATUR
Saint James Church
LOMBARD
DuPage County Green Party
OLNEY
SWAN Inc
PEORIA
Peoria Fed of Musicians Local 26
ROCK ISLAND
Roofer's Local #32
ROCKY HILL
Roofer Local 9
Round Lake Beach
Kushtush Organics

Affordable Housing & Homeless
Partnership of Polk County Iowa
Iowa Coalition for Housing & Homelessness
CEDAR RAPIDS
Int'l Brotherhood/ Electrical Workers
Local 1362
FORT DODGE
YWCA Fort Dodge
DES MOINES
Broadlawns Medical Center
Central Iowa Building & Construction Trades Council
Church's United Shelter
Iowa Coalition Against Domestic Violence *
Iowa Community Action Association
Operating Engineer Local 234
Roofers Local No 142
IOWA CITY
Iowa City Federation of Labor
UBC Local 1260
SIOUX CITY
Community Action Agency of Siouxland
WATERLOO
IAMAW Local 1728
IA State Council/CWA AFL-CIO Local 2093
* Renewal

ANDERSON
Int'l Union of BAC Local 4 IN/KY
BLOOMINGTON
CWA Local 4818
EVANSVILLE
Communication Workers of America
Local 4700
FORT WAYNE
Family's' Children's Services
Vincent House Inc
GARY
Brothers' Keeper Inc
INDIANAPOLIS
Central Indiana Jobs with Justice
CWA Local 4900
Community Faith & Labor Coalition
Horizon House
IATSE 836
Indiana Coalition on Housing & Homeless Issues
Int'l Assoc of Machinists & Aerospace Workers Lodge 90
King Park Area Dev Corp
One Paycheck Away
Roofers Local 119
JEFFERSONVILLE
Haven House Services
Southern Indiana Housing Initiative
Kokomo
UAW Local 685
SCOTTSBURG
Scott County Welfare to Work Task Force
SOUTH BEND
IBEW Local 153
Int'l Alliance of Theatrical & Stage Employees Local 187
Just Goods
No Central Indiana AFL-CIO Central Labor Council
St Joseph Valley Project/ Jobs with Justice
YWCA of St Joseph County

Sociologists Without Borders​
GLASCOW SCOTLAND UK
The Big Issue In Scotland
TORONTO ONTARIO CANADA
Centre for Social Justice
HOUSTON TX USA
Church Women United
Int'l Union of Operating Engineers Local 450
GABRIOLA BC CANADA
New Society Publishers

Kansas Communication Workers of America
HUTCHINSON
New Beginnings
Int'l Brotherhood of Electrical Workers Local 661
KANSAS CITY
Tri-County Labor Council of East Kansas AFL-CIO
LAWRENCE
The Lawrence Coalition on Homeless Concerns
NORTONVILLE
Homestead Affordable Housing
STOCKTON
National Action Network Kansas Chapter
TOPEKA​​
Kansas AFL-CIO
United Steelworkers Local 307
WICHITA
Central & Western KS BCTC
Inter-Faith Ministries Wichita
Plumbers & Pipefitters Local Union 441
Service Employees Int'l Union Local 513

Kentucky Communication Workers of America
BEREA
Federation of Appalachian Housing Enterprises Inc
COVINGTON
Northern Kentucky Housing & Homeless Coalition
FRANKFORT
Homeless & Housing Coalition of Kentucky
LEXINGTON
Ashland-Tomcats.com
LOUISVILLE
Coalition for the Homeless of Louisville Laborers Local 576
Louisville Professional Fire Fighters Local 345
Kentucky Jobs with Justice
St John's Center
NAZARETH
Central Leadership Team of the Sisters of Charity of Nazareth
NEWPORT
The Partnership Center LTD
Utility Workers Union of America Local 600
OWENSBORO
Laborers Union 1392
Daniel Pitino Shelter

JEANERETTE
SMILE Community Action Agency
LAFAYETTE
SMILE
LAKE CHARLES
IBEW Local 861
METAIRIE
IBEW Local 130
MONROE
Iron Workers Local 710
NEW IBERIA
I CAN! America
NEW ORLEANS
Unity for the Homeless
National Policy & Advocacy Council on Homelessness-SAC
SHREVEPORT
A Different Approach Handicrafts Inc
IATSE 298

AMHERST
The Center for Popular Economics
Tikkun Olam Committee of the Jewish Community of Amherst
BOSTON
BHCHP Consumer Advisory Board
Campaign on Contingent Work CCW
Catholic Charities of San Jose
Center for Social Policy
Citizens Housing & Planning Assoc Inc
Community Change Inc
E Massachusetts Jobs with Justice
Homes For Families
Greater Boston Food Bank Inc
MA Affordable Housing Alliance
MA Alliance of HUD Tenants
The MA Coalition for the Homeless
No Am Alliance for Fair Employment
Our Bodies Ourselves
United for a Fair Economy
BRIGHTON
Jewish Community Housing for the Elderly
BOSTON
Brookline
Cottonfield LLC
BURLINGTON
FXB USA
CAMBRIDGE
Boston Area Rape Crisis Center
First Church Shelter
Homeless Empowerment Project
Solutions at Work
CARVER
United Food & Commercial Workers Int'l 1145
DORCHESTER
Project Hope
FLORENCE
Suki Inc
HATFIELD
The Food Bank of Western Massachusetts
HYANNIS
Community Action Committee Cape Code & Islands
JAMAICA PLAIN
Boston Health Care for the Homeless
Hispanic Community Church
LEXINGTON PARK
Art Therapy Studio
LONGMEADOW
MA Career Development Institute
LOWEL
Community Teamwork Inc
LUDLOW
Int'l Alliance of Theatrical & Stage Employees Local 186 MPMVO
LYNN
Lynn Housing Authority
MALDEN
Tri City Housing Task Force for the Homeless
MIDDLEBORO
IBEW Local 2322
NORTH ANDOVER
Communications Workers of Am 1365
NORTH EASTHAM
Lower Cape Cod Community Development Corp
PITTSFIELD
Berkshire Co Committee on Homelessness
ROXBURY
Urban Edge
Springfield
ARISE
Arise for Social Justice
Teamsters Local 404
WELLESLEY
Women of Means Inc
WESTBOROUGH
Central MA Chapter of Physicians for Social Responsibility
WESTFIELD
Samaritan Inn Shelter
WORCESTER
Central MA Housing Alliance

The Unitarian Universalist Funding Program
AUGUSTA​
United Association of Journeymen & Apprentices of the Plumbing & Pipe Fitting Industry of the United States & Canada Local 716
Radio Free Maine
GORHAM
York Cumberland Housing
HERMON
OHI
HINCKLEY
Hospitality House
IBEW Local 1768
KITTERY POINT
Kids Make A Difference
PORTLAND
City of Portland Social Services
Portland Organizing to Win Economic RIGHTS
Preble Street Resource Center Consumer Advocacy Project
SOUTH PORTLAND
Teamsters Local 340
PRESQUE ISLE
The Michalowski Group
RUMFORD
Rumford Group Homes Inc

ANN ARBOR
IBEW 252
People's Progressive Network of Washtenaw Cnty
BATTLE CREEK
Battle Creek Homeless Council
COLDWATER
Altrusa Teen SHARE
DEARBORN
UAW Local 600
DETROIT
The Homeless Action Network of Detroit
Maurice & Jane Sugar Law Center for Social & Economic Justice Business
Our Brother's Keeper
Southeast Michigan Jobs With Justice
FLINT
Affordable Living services
Vista Center of Flint
GALESBURG
Int'l Brotherhood of Electrical Workers
Local Union 13
GRAND RAPIDS
Clothing Matters
Iron Mountain
IBEW 219
LANSING
IBEW 665
Michigan Coalition Against Homelessness
UAW Local 652
MATTAWAN
RESULTS Kalamazoo
PORT HURON
Safe Horizons
ROCHESTER HILLS
Universal Living Systems
ROMULUS
The Detroit Air Transport LL 141
SAGINAW
IBEW Local 557
Underground Railroad
TRAVERSE CITY
IBEW 498

Community Psychologists of MN
Elim Transitional Housing
Integrated Community Solutions
Minnesota Coalition for the Homeless
ANGORA
Carpenters Local #851
BEMIDJI
Bi-County CAP Inc
Northern Cradle (FKA April's Shelter)
BRAINERD
The Mid Minnesota Women's Center
Brooklyn Center
Homeless & Refugee Children Inc
CAMBRIDGE
New Pathways Inc
CROOKSTON
Tri-Valley Opportunity Council Inc
Columbia Heights
Community Home Ownership Inc
DULUTH
Duluth AFL-CIO Central Labor Party
Sheet Metal Workers Local #10 Duluth-Superior & Iron Range Area
EDINA
Minnesota Librarians for Social Responsibility
FERGUS FALLS
West Central MN Continuum of Care Regional Task Force
GOLDEN VALLEY
People Responding in Social Ministry
GRAND RAPIDS
Kootasca Community Action
HIBBING
IBEW Local Union 294
HOKAH
Houston County Women's Resources
MANKATO
Partners for Affordable Housing
MARSHALL
Womens Rural Advocacy Programs Inc
MINNEAPOLIS
Central Lutheran Church
IATSE Local 13 Mpls/St Paul MN
Congregations Concerned for Child
Advocacy Network
Division of Indian Work
Fathers & Children Together
Metropolitan Interfaith Council on Affordable Housing
Minneapolis Pipefitters Local 539
People Serving People
Prodigal House
Residents for Affordable Housing
R S Eden
St Anne's Place
St Stephen's Housing
St Stephens Human Services
St Stephen's Shelter
Simpson Housing Services
MINNETONKA
ntercongregation Communities Association
MOORHEAD
F-M Dorothy House of Hospitality Inc
People Escaping Poverty Project
YWCA Clay County Transitional Housing
NEW BRIGHTON
Millwright Local 548
NEW HOPE
YMCA
PLYMOUTH
Mission Lodge
PRIOR LAKE
Carver Committee for Emergency & Transitional Housing
ROCHESTER
Women's Shelter Inc
SLAYTON
SW Minnesota Housing Partnership
ST ANTHONY
ELLM
ST CLOUD
Central MN Housing Partnership
Gail Eckhaff Transitional House
Housing Coalition of St Cloud Area
Tri-County Action Program Inc
ST LOUIS PARK​
Perspectives Inc
ST PAUL
Beth's Buttons for Social Change
Humphrey Job Corps Center
Lutheran Social Services
Minnesota Housing Partnership/MHP
New Foundation's Inc
Peta Waken Tipi Fire Lodge
Ramsey Action Program Inc/RAP
St Paul Area Council of Churches
Theresa Living Center
Urban Coalition of St Paul MN
Women's Advocates Inc
Women of Nations
Spring Lake Park
RISE Inc
VIRGINIA
Range Transitional Housing Inc
WILLMAR
Shelter House Inc

The Christian Times
Fathers' Support Center
Missouri Communication Workers
of American
BALTIMORE
United Ministries Inc
JEFFERSON CITY
Missouri Assoc for Social Welfare
KANSAS CITY
Community Assistance Council
NEW BLOOMFIELD
Missouri Coalition for the Homeless
ST JOSEPH​
IBEW Local 695
ST LOUIS
Community Alternatives
Housing Comes First
Adequate Housing for Missourians
Neighborhood Enterprises
St Louis B & CTC
Sanctuary in the Ordinary
Veterans for Peace
What's Up Magazine
Feed My People Inc
SPRINGFIELD
Unitarian Universalist Social Action

Multi-County Community Service
GREENVILLE
MS Workers' Center for Human Rights
MARKS
Quitman County Development Organization Inc
Quitman Tri-County Federal Credit Union
MERIDIAN
Mississippi United Against Homelessness
SHELBY
Southeastern Development Opportunities (CHDO)
TUPELO
IBEW Local 102
YAZOO CITY
Yazoo County Fair/Civic League

BILLINGS
Cooperative Health Center
BOZEMAN
Am Fed of Musicians Local 709
HELENA
Cooperative Health Center
Montana Coalition Against Domestic & Sexual Violence
Montana Human Rights Network
KALISPELL
IBEW Local Union 768
The Nurturing Center
Samaritan House
MISSOULA
AFM Local 498 Musicians of Western Montana
Indian Peoples Action
Jeannette Raukin Peace Center
Montana Community Labor Alliance/Jobs with Justice
Plumbers & Pipefitters Local 459

Center for Community Change
Conference of Am Rabbis
Church Women United
Gray Panthers
Green Party of the United States
House the Homeless Inc
National Coalition for the Homeless
National Health Care for the
Homeless Council
National Law Center on Homelessness and Poverty
The National Lawyers Guild
Sugar Law Center
Nat'l Low Income Housing Coalition
Nat'l Organization for Human Services
Nat'l Organization for Women
Network: The National Catholic Social Justice Lobby
No American Street Newspaper Assoc
Rainbow/PUSH Coalition
Union of Am Hebrew Congregations
AUSTIN TX​
HSR Construction
BOSTON MA
National Alliance of HUD Tenants
No Am Alliance for Fair Employment
CLEVELAND OH
Universal Health Care Action Network
KANSAS MO
Nat'l Assoc For Human Rights In America
NEW YORK NY
Citizen Soldier
Physicians for Social Responsibility
Women of Reform Judaism
World Hunger Year
PHILADELPHIA PA
The Am Friends Service Committee
American Federation of Teachers
PITTSBURGH PA
Nat'l Council for Urban Peace & Justice
ROXBURY MA
National Consumer Advisory Board
SAN FRANCISCO CA
Global Exchange
SEATTLE WA
Int'l District Housing Alliance
ST LOUS MO
Veterans for Peace
WASHINGTON DC
American Federation of Teachers
Citizens Policies Institute
Communication Workers of America CWA
Int'l US Canada Puerto Rico
Co-op America
The Homeless Assoc Nat'l Connection
Housing Assistance Council
National Assoc Of Social Workers
National Coalition for Asian Pacific
American Community Development
Nat'l Cnty Reinvestment Coalition
National Council of Churches
National Network for Youth
National Priorities Project
National Rural Housing Coalition
Pax Christie USA
Presbyterian Church USA
Service Employees Int'l Union
Spina Bifida Association of America
United Methodist Church

Monadnock Area Transitional Shelter
Diocesan Bureau of Housing
SE Nebraska Continuum of Care
CHADRON
High Plains CDC
GRAND ISLAND​
Community Humanitarian Resource Center
OMAHA
Holy Name Housing Corporation
LINCOLN
Nebraska Association of CHDOs

CONCORD
American Friends Service Committee
Concord Firefighters IAFF Local 1045
KEENE
Monadnock Area Housing Coalition
LITTLETON
AHEAD Inc
NASHUA
Nashua Soup Kitchen & Shelter Inc
NORTHFIELD
New Hampshire Homeless
MANCHESTER
New Hampshire Coalition for the Homeless
MILFORD
IATSE Local 195 NH/Lowell MA
PORTSMOUTH​
Seacoast Living Wage Campaign

Progressive Leadership Alliance of Nevada
LAS VEGAS
Americas Children's Charities Inc
Global Property Mngt Group Inc
IATSE Local 720
Laborers Local 872
Las Vegas Catholic Worker
Pulidor Foundation
RENO​
Interfaith Hospitality Network of the Truckee Meadows
Nevada Hispanic Services Inc
Project RESTART

ABSECON
Carpenters Local 1305
CAMDEN
Camden Co Council on Economic Opportunity Inc
North Camden Land Trust
COLLINGSWOOD
Volunteers of America/Delaware Valley
DAYTON
Am Fed of Musicians Local 101-473
DUMONT
Alliance Against Homelessness of Bergen County Inc
DUNELLEN
FISH Hospitality Program Inc
EAST BRUNSWICK
East Brunswick Community Housing Corp
ELIZABETH
Elizabeth Coalition to House the Homeless
ENGLISHTOWN
CWA LOCAL 1022
GARDEN CITY
Nassau/Suffolk Coalition for the Homeless
HACKENSACK
Fair Housing Council of Northern NJ
JERSEY CITY
Women Rising
The York Street Project
LAKEWOOD
MI Casa
LAWRENCEVILLE
Home Front
NEWARK
Apostles House
New Jersey Alliance for the Homeless Project Live Inc
NEW BRUNSWICK
Brunswick & Raritan Housing Corporation
Civic League of Greater New Brunswick
Middlesex County Comprehensive
Emergency Assistance System
Middlesex Interfaith Partners with the Homeless
Triple C Housing Inc
PLAINFIELD
Faith Bricks & Mortar Inc
Interfaith Council
TEANECK
Interreligious Fellowship for the Homeless
TRENTON
Crisis Ministry of Princeton & Trenton
Dept of Health & Human Services Div of Community Relations & Social Services
East Trenton Initiative
Housing & Community Development
Network of New Jersey
New Jersey Association on New Correction
WEST NEW YORK​
North Hudson Community Action Corp

ALBUQUERQUE
Albuquerque Center for Peace & Justice
Albuquerque Homeless Advocacy Coalition
American Friends Service Committee
Clothes Helping Kids Inc
Healthcare for the Homeless Clinicians Network
IAMAW LL 1635
IATSE Local 423
New Mexico Voices for Children
SMWIA Local 49
LAS CRUCES
South West New Mexico- CLC
MORA
Helping Hands Inc
SANDIA PEAK
Mcnab Design
TAOS​
Community Against Violence Inc
Taos Cnty Economic Dev Corp

Erie County Commission on Homelessness
Long Island Progressive Coalition
Picture the Homeless
SENSES
ALBANY
Civil Service Employees Assoc Labor Local 670
Neighborhood Preservation Coalition for NY State Inc
Statewide Emergency Network for Social & Economic Security
United Tenants of Albany
AUBURN
Cayuga/Seneca Community Action Agency Inc
BAYSHORE
United Veterans Beacon House
BEACON
St Andrews Episcopal Church
BOHEMIA
Long Island Housing Services Inc
BOSTON
Southtowns Rural Preservation Co Inc
BRONX
Communication Workers of America Local 1105
HELP USA Bronx/Northern Manhattan
Southside Community Mission
Starline Baker
Thorpe Family Residence Inc
BROOKLYN
Brooklyn Carpenters 926
Center For Economic & Social Rights
CWA Local 1109
Erasmus Neighborhood Fed Int'l Union of Operating Engineers IUOE 891
Providence House Inc
Sanitation Officers Association
United Evangelical Council of Christian Churches
BUFFALO
Buffalo AFL-CIO Community Service
Buffalo Musicians Local 90
Coalition Economic Justice/Buffalo Jobs with Justice
Comm Workers of America Local 1168
Mercy United CWA 1133 Cattaraugus
Cattaraugus Alleghany Central Labor Council
CICERO
Roofers Local #195
Croton-on-Hudson
St Augustin's Episcopal Church
EAST CHESTER
Poor Homeless Farmers
GLEN FALLS
Adirondack Vets House Inc
GREENBURGH
Town of Greenburgh/Office of the Supervisor
HEMPSTEAD
Multi-Talents Inc
HICKSVILLE
IBEW Local 1381
HILLSDALE
Columbia County Habitat for Humanity
HOLLIS
True Vine Tabernacle of God Inc
ITHACA
Cornell Coalition for the Homeless
Jamaica
Hand Crafting Justice
JAMESTOWN
Southwest Independent Living Center
YWCA of Jamestown
LATHAM
The Interfaith Alliance of New York State Inc
LEVITTOWN
Long Island Center for Independent
Living Inc
MEDFORD
Concern for Independent Living
MIDDLETON
Orange County Housing Consortium
NEW PALTZ
Mid Hudson Labor-Religion/Jobs with Justice
NEWBURGH
Hudson/Catskill Central Labor Council AFL-CIO
NEW YORK CITY
Agenda for Children Tomorrow
Am Federation of Gov Employees
Local 1151
Black Veterans for Social Justice Inc
Carpenters Local 608
Center for Urban Community Services
Charas/El Bohio Cultural & Community Center
Council of Churches of the City of NY
Disabled in Action Metro NY
Economic Security Campaign
Eviction Intervention Services
Fox House
Greater NY Labor-Religion Coalition
Harlem Independent Living Center
Hunger Action Network *
Lincoln Square Neighborhood Center Inc
Met Council on Jewish Poverty
New York Children's Health Project
New York Urban League
Parent Watch
Readiocom
NYACK
Fellowship of Reconciliation
ONEONTA
American Federation of Musicians
OSWEGO
The Oswego County Labor Council AFL-CIO
USW Local 4-00054
PATCHOGUE
Patchogue-Medford Youth & Community Services
PHOENICIA
Sharp Committee Inc
PORT CHESTER
Human Development Services of Westchester
ROCHESTER
Coalition of NE Associations Inc
ROSLYN HEIGHTS
Salem African Methodist Episcopal Church
ST LAWRENCE
Dr Usdi Adisi Ahwi PhD NCA
SCHENECTADY
Schenectady Community Action Program Inc
SICM Food Program
Bridge Center of Schenectady Inc
STATEN ISLAND
United Brotherhood of Carpenters Local Union 20
STONY BROOK
School of Social Welfare
SUFFOLK
Suffolk Welfare Warriors
TROY
Unity House of Troy Inc
UTICA
Citizens in Action
WYANDANCH
Wyandanch Homes & Property Dev Corp
* Renewal

Ashville-Buncombe Homeless Coalition
Northwest Continuum of Care
Vance Granville Warrenton Franklin
Continuum of Care
ASHVILLE
Center for Participatory Change
BEAUFORT
E Carolina Community Development Inc
BELMONT
Catherine's House
Black Mountain
Culture's Edge
BURLINGTON
Alamance County Inter Agency Council of Homeless Assistance
CARRBORO
Inter-Faith Council for Social Service
CARY
St Francis UMC
CHAPEL HILL
The Change
Sociologists Without Borders
CHARLOTTE
Second Harvest Food Bank
YWCA Central Carolinas
DURHAM
Forests of the World
New Directions for Downtown Inc
Triangle Jobs With Justice
ELLENBORO ​
Nehemiah Community Development Corp of NC
ELIZABETH CITY
River City Community Development Corporation
FAYETTEVILLE
Homeless Coalition
LAKE WACCAMAW
Bladen Brunswick Columbus (CED)
GREENSBORO
Beloved Community Center
Christian Social Ministries Commission
Episcopal Dioceses
Greensboro Housing Coalition
YWCA of Greensboro
RALEIGH
Inter-Faith Food Shuttle
News From Our Shoes
North Carolina Low Income Housing Coalition
Urban Ministries of Wake County
WILMINGTON
VOA-Willow Pond Inc
WINSTON-SALEM
The Advocacy for the Poor Inc

BISMARCK
Affordable Housing Development Inc
Dakota Center for Independent Living
Joanne's Health Care for the Homeless Clinic
FARGO
Lutheran Social Services of ND
YWCA of Fargo-Moorhead
GRAND FORKS
First Presbyterian Church

Coalition on Homelessness & Housing in Ohio
Northeast Ohio Coalition for the Homeless
AKRON
ACCESS Inc
Asbestos Workers Local 84
Greater Akron Committee for Better Housing
HM Life Opportunity Services
Housing Network
Legacy III
Tri-County Independent Living Center Inc
ATHENS
Corporation for Ohio Appalachian Development
BOWLING GREEN
United Steel Workers Local 1042
CANTON
ABCD Inc
Laborer's Int'l Laborers Local 1015
CELINA
Family Crisis Network
Sources Community Network Services
CINCINNATI
Bethany House Services Inc
Grace Place Catholic Workers
Greater Cincinnati Coalition for the Homeless
GCC IBT District Council 3
The House of Refuge Missions Inc
Intercommunity Justice & Peace Center
Power Inspires Progress
Roofers Local 42
The Women's Connection
CLEVELAND
Care Alliance
Cement Masons Local 404
Day Laborers' Organizing Committee
East Side Catholic Centers Shelter
Founders Path
Roofers & Waterproofers Local 44
Women for Racial & Economic Equality
Women Speak Out for Peace & Justice
COLUMBUS
Amethyst Inc
Columbus Health Care for the Homeless Communication Workers of America
Community Shelter Board
CWA Local 4501
Columbus Coalition of the Homeless
Friends of the Homeless Inc
Ironworkers Local 172
United Sheetworkers of America USWA Local 2173
DAYTON
Am Fed of Musicians Local 101-473
Dayton Building & Construction Trades Council
The Other Place
Roofers Local 71
DEFIANCE
Defiance Co Residential Housing Inc
NAMI- 4 County
New Home Development
Northwest Ohio Affordable Housing
Northwest Ohio Housing Coalition
FAIRFIELD
Shared Harvest Foodbank
GAMBIER
Int'l Assoc Machinists & Aerospace Workers 2794
HICKSVILLE
Habitat for Humanity Defiance Co
LAKEWOOD
Dennis Kucinich US Congressman (10th District)
LIMA
Lima/Allen Council on Community Affairs
West Ohio Food Bank
LITTLETON
AHEAD Inc
MACEDONIA
UNITE HERE! Local 10
MARION
MID-OHIO AFL-CIO
MIDDLETOWN
Int'l Assoc of Machinists & Aerospace Workers
MILLFIELD
ATLO Beacon Education Association
PAINESVILLE
Lifeline for the Empowerment & Dev of Consumers Inc
PERRYSBURG
Brotherhood of Locomotive Engineers & Trainmen Div 4
ROSSFORD
Communication Workers of America 4319
SALEM
Columbiana County AFL-CIO
ST MARYS
First Friends Church St Marys Ohio
TOLEDO
FOCUS Homeless Services
NW Ohio Bldg & Construction Trades Council
North River Development Corporation
WADSWORTH
Ohio NOW
WARREN
Int'l Brotherhood of Electrical Workers 573
YOUNGSTOWN
Laborers Int'l Union of N America Local 125
Western Reserve Building & Construction Trades Council
ZANESVILLE
Muskingum County CLC AFL-CIO

American Friends Service Committee
Oklahoma Communications Workers of America
OKLAHOMA CITY
AFGE Local 916
Int'l Union of Painters and Allied Trade 807
My Sisters Keeper
Oklahoma City Federation of Teachers/Local 2309, AFT
OKMULGEE
Deep Fork Community Action
TULSA​
CCWA Local 6012
American Friends Service Committee
BEND
Bend Area Habitat for Humanity
Central Oregon Jobs with Justice
Laborers Local 121
COOS BAY​
Southwest Oregon Community Action
EUGENE
Eugene-Springfield Solidarity
Network/Jobs with Justice
White Bird Clinic
GRESHAM
Mary Market Design & Technology Services
MEDFORD
Rogue Valley Community Dev Corp
PORTLAND
Alima Cosmetics
Am Federation of Musicians Local 99
Community Development Network
Environmental Justice Action Group
IBEW LU 48
Machinists Union Local 63
Musicians Union Local 99 AFM
Neighborhood Pride Team of Portland
Oregon Food Bank
Portland Jobs with Justice
Progressive Investment Management
SALEM
Mid-Willamette Valley Jobs
Oregon Coalition on Housing & Homelessness

Western Pennsylvania Living Wage Coalition (Affiliated with the Alliance for Progressive Action)
ALLENTOWN
The New Men Association
AMBER
Down to Earth
ARCHBALD
Musician Protective Association Carbondale Local 130
BEAVER
Beaver County Building & Construction Trades
BETHLEHEM
Community Action Community of Leigh Valley
BUTLER
Int'l Brotherhood of Electrical Workers Local 385
EFFORT
Pocono Healthy Communities Alliance *
ERIE
Community Shelter Services Inc
IBEW Local Union No 56
Int'l Brotherhood of Electrical Workers Local 1637
NAACP
SEIU- F&O Local 22
Sisters of St Joseph of NW Pennsylvania
HARRISBURG
Community Action Commission
SEIU Local 668 PSS4
SEIU Local 668 PSSU
YWCA of Harrisburg
GETTYSBURG
Adams Co Interfaith Housing Corp
YWCA of Gettysburg & Adams County Glenside
Pennsylvania Low Income Housing Coalition
GREENSBURG
Westmoreland Human Opportunities Inc Lancaster
Milagro House
LIMA
Regional Council (Allentown) AFL-CIO
LUCERNE
Indiana Armstrong Clarion CLC AFL-CIO
MCKEESPORT
YWCA of McKeesport
NOTTINGHAM
Little Britain Monthly Meeting of Friends
PHILADELPHIA
1260 Housing Development Corporation
Am Federation of Government Employees Local 644
Asociación Puertorriqueños en Marcha Inc
Bethesda Project
COLT Coalition
Fresh Start Community Development Corporation
Glenwood Community Dev Corp
Homeless Advocacy Project
Hunting Park Community Development Corp
Mental Health Assoc of So East Pennsylvania
People's Emergency Center
Philadelphia Committee to End Homelessness
Philadelphia Jobs With Justice
The Philadelphia Veterans Multi-Service Center
Project HOME
PITTSBURGH
A Second Chance Inc
Citizens Budget Campaign of Western PA
Cooperative Parenting for Divided Families
Health Care for the Homeless
Int'l Brotherhood of Electrical Workers Local 1919
Just Harvest
Program for Healthcare to Underserved Populations
The Thomas Merton Center
United Electrical Radio & Machine Workers of America District Council 6
Welfare Rights-Housing
READING
United Labor Council of Reading & Berks County
ROSEMONT
ELS Landscaping
SCRANTON
Catherine McAuley Center
SEWICKLEY
Unitarian Universal Lists United for Faith in Action
WILKES-BARRE
VISION INC
WRIGHTSTOWN
Bucks County Housing Group
* Renewal

CATANO
Hogarde Ayuda Refugio Inc
MAYAGUEZ
Municipality O-P Mayaguez
SAN JUAN
Hogar Padre Venard Inc
La Fondita de Jesus
Manos Al Servicio de la Comunidad Inc
San Juan Continuum of Care Coaliton
TOA BAJA
Sheet Metal Workers Local 41
Central Conference of American Rabbis
Church Women United
Florida Impact-Diocese of St Augustine
St Francis Center-Tom Luehrs
Union of American Hebrew Congregations
ALBANY NY
Civil Service Employees Assoc Labor Local 670
ARLINGTON VA
Our Lady Queen of Peace RC Church
ATLANTA GA
Antioch Baptist Church
Jerusalem House Inc
Mercy Housing South East
AUSTIN TX
Cen-Tex Silicone Implant Support Inc
Family Forward
Pax Christi Austin
Prince of Peace Lutheran Church
BALTIMORE MD
Sisters of Mercy Baltimore
BEACON NY
St Andrew's Episcopal Church
BIRMINGHAM AL
Greater Birmingham Ministries
BOISE ID
The Interfaith Alliance of Idaho
BOSTON MA
Catholic Charities of San Jose
BROOKLYN NY
Providence House Inc
The United Evangelical Council of Christian Churches
BURLINGTON VT
Sisters of Mercy Vermont Leadership Team
CABOT AR
The Kings OutReach
CAMBRIDGE MA
First Church Shelter
The Unitarian Universalist Service Committee
CASPER WY
Grace AME Church
The Religious Coalition for Community Renewal
CENTRAL ISLIP NY
Long Island Labor
CHATTANOOGA TN
Bethlehem-Wiley Church
CHICAGO IL
Bethel New Life
Chicago Uptown Ministry
San Jose Obrero Mission
Sisters of Mercy Chicago Religious Justice Committee
CINCINNATI OH
Bethany House Services Inc
Grace Place Catholic Workers
CLEVELAND OH
East Side Catholic Center and Shelter
COEUR D'ALENE ID
St Vincent De Paul
CROTON-ON-HUDSON NY
St Augustin's Episcopal Church
DALLAS TX
The Stew Pot
DECATUR IL
St James Church
DENVER CO
American Friends Service Committee
Denver Urban Ministries
DETROIT MI
All Saints Episcopal Church Detroit
ERIE PA
Sisters of St Joseph of NW Pennsylvania
FARGO ND
YMCA of Fargo-Moorhead
FLORIDA
Goldenrule Housing & CDC Inc
FORT BRAGG CA
Lighthouse Church
GRAND FORKS ND
First Presbyterian Church
GREENSBORO NC
Christian Social Ministries Commission
Episcopal Dioceses of NC
Faith Action Int'l House
HOLLIS NY
True Vine Tabernacle of God Inc
HONOLULU HI
Pacific Islanders/United Methodist Church
HOUSTON TX
Abiding Missionary Baptist Church
Jacinto City United Methodist Church
MASSACHUSETTS
Unitarian Universalist Social Action
JAMAICA PAW MA
Unitarian Universalist Funding Program
Hispanic Community Church
JEFFERSON CITY MO
Diocese of Jefferson City/Social Concerns Office
LARAMIE WY
Interfaith Good Samaritan
LATHAM NY
The Interfaith Alliance of New York State Inc
LITTLE ROCK AR
Moody Chapel AME Church
LOUISVILLE KY
St John's Center
MACON GA
Macon Outreach at Mulberry
MANCHESTER NH
Diocesan Bureau of Housing
New Hampshire Catholic Charities Inc
MINNEAPOLIS MN
St Stephens Human Services
MISSOURI
The Christian Times
MOORHEAD MN
Churches United for the Homeless
National
American Friends Service Committee
Network: A National Catholic Social Justice Lobby
NAZARETH KY
Central Leadership Team of the Sisters of Charity of Nazareth
NEW PALTZ NY
Mid-Hudson Labor-Religion/Jobs with Justice
NEW YORK NY
Greater NY Labor-Religion Coalition
Council of Churches of the City of New York
NEWARK NJ
Apostles' House
OKLAHOMA CITY OK
AFSC
OMAHA NE
Holy Name Housing Corporation
ORLANDO FL
Ascension Social Concerns
Urban University Seminary ®
PATERSON NJ
Eva's Kitchen & Sheltering Program Inc
PITTSBURGH PA
Community Mosque Inc
PROVIDENCE RI
Brown Hillel Foundation
RENO NV
Interfaith Hospitality Network of the Truckee Meadows
RICHMOND VA
Virginia Interfaith Center for Public Policy
ROSLYN HEIGHTS NY
Salem African Methodist Episcopal Church
SALT LAKE CITY UT
Coalition of Religious Communities
SAN ANTONIO TX
Holy Rosary Catholic Church
Mission-San Francisco De La Espada
San Fernando Cathedral
St Alphonsus
St Martin De Porres
SAN JUAN PR
La Fondita de Jesus
SEATTLE WA
Aloha Inn
Washington Association of Churches
SEWICKLEY PA
Unitarian Universal Lists United for Faith in Action
SILVER SPRING MD
Sisters of Mercy Institute Justice Team
SOUTH BEND IN
St Joseph Valley Project
YWCA of St Joseph County
ST MARYS OH
First Friends Church St Marys Ohio
ST PAUL MN
Lutheran Social Services
STOCKTON CA
AFSC
TACOMA WA
United Way and Associated Ministries
TEANECK NJ
Interreligious Fellowship for the Homeless
TRENTON NJ
The Crisis Ministry of Princeton and Trenton
TUCSON AZ
American Friends Service Committee
Interfaith Coalition for the Homeless Inc
TULARE SD
Tulare United Church
TEXAS
Austin Area Interreligious Ministries
WACO TX
Mission WACO
WASHINGTON DC
First Trinity Lutheran Church
National Council of Churches
Pax Christie USA
Presbyterian Church USA
United Methodist Church
WILMINGTON DE
St Paul Church

CRANSTON
Ocean State Action
Opportunities Unlimited Inc
SEIU Local 668 PSSU
PAWTUCKET
Mirror Image
New Hope Emergency Shelter
PROVIDENCE
Brown Hillel Foundation
Childhood Lead Action Project *
The Genesis Center
Rhode Island Coalition for the Homeless
Rhode Island Jobs With Justice
Travelers Aid
* Renewal

ANDERSON
Anderson Sunshine House
CHARLESTON
Crisis Ministries
Am Fed of Musicians Local 502
The Coastal Carolina Association of Professional Musicians
COLUMBIA
Family Shelter
Sister Care Inc
The South Carolina Institute on Poverty & Deprivation
Trinity Housing Corporation
GREENVILLE
Allen Temple Community Development Center
Upstate Homeless Coalition of SC
GREENWOOD
Games Coalition for the Homeless
Meg's House
LITTLE RIVER
Little River Medical Center
MOUNTAIN REST
MoreSun Custom Woodworking Inc
ORANGEBURG
St Paul's Episcopal Church
SALUDA
Concerned Citizens Assoc of Saluda
Pee Dee Community Action Agency

CHATTANOOGA
Bethleham-Wiley Church
CLEVELAND
Bradley-Cleveland Community Services
Cleveland Emergency Shelter
KNOXVILLE
Knoxville Jobs with Justice
Second Harvest Food Bank
MARYVILLE
Blount County Habitat for Humanity
MEMPHIS
Greater Memphis Coalition for the Homeless
NASHVILLE
Tennessee Network for Community Development

APPLETON
The Emergency Shelter of Fox Valley
BURLINGTON
Southeastern Wisconsin Housing Corp
DE PERE
Brown Co Coalition for the Homeless Inc
MADISON
Dane County Homeless Coalition
Wisconsin Partnership for Housing Dev Inc
MARSHALL
Manufactured Home Owners Association
MILWAUKEE
Hunger Task Force
St Benedict Community Meal
Sheet Metal Workers Local 18
Teamsters Local 200
POYNETTE
Harlington-Poynette Area Clergy Assoc

BLUEFIELD
Community Action of South East West Virginia
CHARLESTON
Communication Workers of America
Religious Coalition for Community *
REDEEM- Realizing Economic Development Through Education Enterprise & Morals
GENOA
Genoa Christian Center
HUNTINGTON
Teamsters Local Union 505
Huntington WV Housing Authority
KINCAID
Southern Appalachian Labor School
MILTON
West Virginia Economic Justice Group
PARKERSBURG​
Roofers Local 242 AFL-CIO
* Renewal

Wyoming Coalition for the Homeless
CASPER
Grace AME Church
Health Care for the Homeless
The Religious Coalition for Community *
CHEYENNE
Cheyenne Crossroads Clinic
LARAMIE
Interfaith Good Samaritan
* Renewal

American Friends Service Committee
Bay Area Homeless Services
Democratic Party of Collin County
Gray Panthers
Green Party of Texas
Hays County Green Party
League of United Latin American Citizens Public Citizen
Texas AFL-CIO
Texas Alliance For Human Needs
Texas Assoc of Community Dev Corps
Texas Civil Rights Project
Texas Communication Workers of America 6132
Texas Homeless Network
Texas Legal Services Center
Texas Low Income Housing Information Services
Texas NOW-National Organization for Women
Travis County Green Party of Texas
ABILENE
Abilene Big Country Central Labor Council
ARLINGTON
Fort Worth Bldg & Construction Trades Council
AUSTIN
ALLGO
Alliance for Feminist Option
Amalgamated Transit Union #1091
Amalgamated Transit Union Local 1549
American Civil Liberties Union of Austin
Am Federation of Teachers Local 6249 (ACC Chapter)
American Video Tape Service Center
Art From The Streets
Austin Area Homeless Task Force
Austin Assoc of Professional Fire Fighters AFL-CIO
Austin Center for Peace & Justice
Austin Families/Austin Area Employers Collaborative
Austin Federation of Musicians
Austin Living Wage Coalition
Austin NAACP
Austin Area Interreligious Ministries
Austin Peace & Justice Coalition
Austin Tenants Council
Austin Texas Labor Council of the AFL-CIO
Austin Travis County MHMR
Banner Sign & Graphics
Bicycle Sport Shop
Bikes Not Bombs
Brick Oven Restaurant
Capital Area Homeless Alliance
Casa Marianella
Cen-Tex Silicone Implant Support Inc
Clayworks Studio/Gallery
Communities In Schools
Crime Prevention Institute
C Van R Automotive
Dr Namkee Choi's Social Policy Analysis
Class-U Texas
Dynamics of Organizations & Community
Class UT School of Social Work
Eco-Wise
Education Austin
Family Forward
Flick Report-The Leading Commercial Real Estate Magazine in the Austin
Metro Area
Forbidden Fruit
The Good Life (magazine)
Graphic Communications Int'l Union
Local 528 M
Gray Panthers of Austin
Hatch Partnership Architects
IE Inc
Jobs With Justice
Keep the Land
KOOP 917 FM Community Radio
Learning Center at Westlake HS
Mentoring for Homeless Self Sufficiency-AmeriCorps Project
Michael Copeland-Acupuncturist
Motor Blade Postering
The Natural Gardner
Pax Christi Austin
People Organized in Defense of the Earth & its Resources/PODER
PHOGG Phoundation
Poetic Healings Productions
Prince of Peace Lutheran Church
Professional Musicians
Push-Up Foundation
Ray Marshall Center
SEED Coalition
Sisters & Brothers Inc
The Social Welfare Action Alliance
Steelbeam
Sustainable Food Center
Texas Council of Churches
Texas Council on Family Violence
Texas Democratic Party
Texas Development Institute
Texas Fair Trade Coalition
Texas Federation of Teachers
Texas Moratorium Network
Texas State Employees Union/
CWA Local 6186
Transformations Remodeling
Travis County Democratic Party
Travis County Veterans Service Office
United East Austin Coalition
University Students for A Universal
Living Wage
Veterans for Peace
Volunteer Legal Services of Central Texas
Wheatsville Co-Op
Whole Earth Body Works
Workers Defense Project/Proyecto Defensa Laboral
YWCA of Greater Austin
Professional Musicians
BROWNSVILLE
Brownsville Housing Authority
TBEST Ozanam Inc
BEAUMONT
Southeast Texas Community Development Corp Inc *
COLLEGE STATION
Students for a Civil Society
CORPUS CHRISTI
Corpus Christi American Federation
of Teachers
Dorothy Day Catholic Worker of
Corpus Christi
Nueces County Department of Human Services
Timon's Ministries
DALLAS
AGAPE Outreach Ministries Inc
Dallas Homeless Neighborhood Assoc
North Texas Jobs with Justice
Texas Tenants Union
Triangle Neighborhood Association
United Food & Commercial Workers Local 540
DONNA
CEO
El Paso
El Paso Center on Family Violence
ELGIN
Advocacy Outreach
FLOWER
Cardio Vascular On-Call Specialists
FORT WORTH
Int'l Union of Operating Engineers
Local 178
HUMBLE
Interfaith Hospitality Network Humble Area
HOUSTON
Abiding Missionary Baptist Church
The Alliance for Multicultural Community Service
COLORES DEL PUEBLO
El Franco Lee Harris County Commissioner
Gray Panthers-Houston
Harris County Green Party
Health Care for the Homeless
Houston Area Women's Center
Houston Gulf Coast Bldg & Construction Trades Council
IBEW Local 716
Int'l Union of Operating Engineers
Local 450
Jacinto City United Methodist Church
Magnificent Houses
Pickett Fence Learning Center
Sweet Home for the Homeless
LUBBOCK
Guadalupe Economics Richard Lopez
OVILLA
Transport Workers Union Local 555
RIO GRANDE CITY
Colonias Unidas
ROLLINGWOOD
City of Rollingwood **
SAN ANTONIO
Mind Science Foundation
Mission-San Francisco De La Espada
Native American Center of Texas
St Alphonsus
St Martin De Porres
Serving San Antonio
Teamsters Local Union 657 of San Antonio
SAN JUAN
Proyecto Azteca
SAN MARCOS
Citizens for Social Democracy
Students Toward A New Democracy
TALLAHASSEE
The Tallahassee Coalition for the Homeless Inc
TEMPLE
The Rose Garden
WACO
Mission WACO
* Renewal
** Pays the Universal Living Wage

Am Federation of Teachers Local 5049​
Arkansas Communication Workers of America
Int'l Union Local 3 AFL-CIO
Missouri Communication Workers of America
Oklahoma Communications Workers of America
Texas AFL-CIO Teamsters Local 657 of San Antonio
Texas Communication Workers of America 6132
ABERDEEN WA
UNITE HERE Local 791
ABILENE TX
Abilene Big Country Central Labor Council
ABSECON NJ
Carpenters Local 1305
AKRON OH
Asbestos Workers Local 84
ALBANY NY
Albany Jobs With Justice
ALBUQUERQUE NM
IATSE Local 423
IAMAW LL 1635
SMWIA Local 49
ANCHORAGE AK
Anchorage Council of Bldg & Construction Trades Union
ANCORA MN
Carpenters Local 851
ANDERSON IN
Int'l Union of BAC Local 4 IN/KY
ANN ARBOR MI
IBEW Local 252
ARCHIBALD PA
Musician Protective Association
Carbondale Local 130
ARLINGTON TX
Fort Worth Bldg & Construction Trades Council
ATLANTA GA
Roofers Local 136
AUGUSTA ME
United Assoc of Journeymen & Apprentices of the Plumbing & Pipe Fitting Industry of the US & Canada Local 716
AUSTIN TX
Amalgamated Transit Union 1091
Am Federation of Teachers Local 6249 ACC Chapter
Austin Assoc of Professional Fire Fighters AFL-CIO
Austin Community College AFT Local 6249
Education Austin Federation of Teachers
Graphic Communications Int'l Union Local 528 M
Jobs With Justice
Professional Musicians
Texas State Employees Union/CWA Local 6186
BAKERSFIELD CA
IBEW Local 428
Kern Inyo & Mono Building Trades
BALTIMORE MD
American Federation of Teachers AFT
BARTOW FL
Polk County Opportunity Council
BEAVER PA
Beaver County Building & Construction Trades
BEND OR
Central Oregon Jobs with Justice Laborers Local 121
BENLD IL
Tri-County Musicians Union Local 88
BHAM AL
SEIU Local 121 RN
UAW Local 115
BIRMINGHAM AL
CWA Local 3903
UBCJA/SCIW 2401
BLOOMINGTON CA
UFCW Local 1167
BLOOMINGTON IN
CWA Local 4818
BOISE ID
Communication Workers of America Local 7603
ID CWA State Council AFL-CIOCLC
BOWLING GREEN OH
United Steel Workers Local 1042
BOZEMAN MT
Am Federation of Musicians Local 709
BRONX NY
Communication Workers of America Local 1105
BROOKLYN NY
Brooklyn Carpenters 926
CWA Local 1109
Int'l Union of Operating Engineers IUOE 891
Sanitation Officers Association
BUFFALO NY
Buffalo AFL-CIO Community Service
Buffalo Musicians Local 90
Coalition Economic Justice/Buffalo Jobs with Justice
Communication Workers of America CWA Local 1168
Mercy United CWA 1133
BURBANK CA
NABET-CWA Local 53 59053
BUTLER PA
Int'l Brotherhood of Electrical Workers Local 385
CANTON OH
Laborer's Int'l Laborers' Local 1015
CARVER MA
United Food & Commercial Workers Int'l 1145
CASTROVILLE CA
IBEW Local 234
Monterey Bay Central Labor Council AFL-CIO
CATTARAUGUS NY
Cattaraugus Alleghany Central Labor Council
CEDAR RAPIDS IA
Int'l Brotherhood/Electrical Workers Local 1362
CHARLESTON SC
Am Federation of Musicians Local 502
Coastal Carolina Association of Professional Musicians
CHARLESTON WV
Communication Workers of America-West Virginia
CHARLOTTESVILLE VA
SUUVA/CWA
CHICAGO IL
SEIU Local 73
CHIPLEY FL
Plumbers & Pipefitters Local 592
CICERO NY
Roofers Local 195
CINCINNATI OH
GCC IBT District Council 3
Roofers Local 42
Cement Masons Local 404
Roofers & Waterproofers Local 44
Women for Racial & Economic Equality
Women Speak Out for Peace & Justice
CLIFTON CO
IBEW Local 96
COCKEYSVILLE MD
Local Union 1501 IBEW AFL-CIO CFL
COCOA BEACH FL
IATSE Local 780
COLUMBIA MD
Sprinkler Fitters Local 669
COLUMBUS OH
CWA Local 4501
Communication Workers of America CWA Ironworkers Local 172
United Sheetworkers of America Local 2173
CONCORD CA
IAM Local 1173
CONCORD NH
Concord Firefighters IAFF Local 1045
CORALVILLE IA
Service Employees Int'l Union/Local 199
COUNTRYSIDE IL
Automobile Mechanics Local 701 IAM & AW
IBEW Local 716
DALLAS TX
United Food & Commercial Workers Local 540
North Texas Jobs with Justice
Texas Tenants Union
DALY CITY CA
OPEIU Local 3
DAYTON OH
Am Federation of Musicians Local 101-473
Dayton Building & Construction Trades Council
Roofers Local 71
DEARBORN MI
UAW Local 600
DENVER CO
Int'l Brotherhood of Electrical Workers Local 69
DES MOINES IA
Central Iowa Building & Construction Trades Council
Operating Engineer Local 234
Roofers Local No 142
DUBLIN CA
IBEW Local 595
DULUTH MN
Duluth AFL-CIO Central Labor Party
Sheet Metal Workers Local 10 Duluth-Superior & Iron Range Area
DURHAM NC
Triangle Jobs With Justice
EL CENTRO CA
Imperial County Building Trades Council
ENGLEWOOD CO
Colorado Jobs With Justice
ENGLISHTOWN NJ
CWA LOCAL 1022
ERIE PA
IBEW Local 56
Int'l Brotherhood of Electrical Workers Local 1637
SEIU-F&O Local 22
ESCANABA MI
IBEW Local 979
EUGENE OR
Eugene-Springfield Solidarity Network/Jobs with Justice
EVANSVILLE IN
Communication Workers of America Local 4700
FAIRBANKS AK
Laborers Int'l Union of North America 942
Sheet Metal Workers Union Local 23
Fairbanks Central Labor Council AFL-CIO
FORT WORTH TX
Int'l Union of Operating Engineers Local 178
FOSTER CITY CA
Bldg & Construction Trades Council San Mateo Co
San Mateo County Central Labor Council AFL-CIO
FREEPORT IL
United Steel Workers of America Local 745
FRESNO CA
Drywall-Lathers Local 9083
FT LAUDERDALE FL
IBEW Local 728
FT SMITH AR
IBEW Local 700
GALESBURG MI
Int'l Brotherhood of Electrical Workers Local Union 131
GAMBIER OH
Int'l Assoc Machinists & Aerospace Workers 2794
GARDEN GROVE CA
UNITE HERE! Local 681
GLOBE AZ
IBEW LU 518
GREENWOOD VILLAGE CO
Communication Workers of America District 7
HAGERSTOWN MD
United Brotherhood of Carpenters Local 340
HARRISBURG PA
SEIU Local 668 PSS4
SEIU Local 668 PSSU
HARTFORD CT
SEIU Local 760
CSEA SEIU Local 2001
New England & Health Care Employees Union Dist 1199
HIBBING MN
IBEW Local 294
HICKSVILLE NY
IBEW Local 1381
HINCKLEY ME
Hospitality House
IBEW Local 1768
HOLLYWOOD FL
CWA Local 3120
HONOLULU HI
Hawaii State AFL-CIO
Laborers Local 368
Musicians' Association of Hawaii
HOUSTON TX
Houston Gulf Coast Building & Construction Trades Council
Int'l Union of Operating Engineers Local 450
HUNTINGTON WV
Teamsters Local Union 505
HUNTSVILLE AL
UAW Local 1413
HUTCHINSON KS
Int'l Brotherhood of Electrical Workers Local 661
INDIANAPOLIS IN
Central Indiana Jobs with Justice
Community Faith & Labor Coalition
CWA Local 4900
IATSE 836
Int'l Association of Machinists & Aerospace
Workers Lodge 90
Roofers Local 119
IOWA CITY IA
Iowa City Federation of Labor
UBC Local 1260
IRON MOUNTAIN MI
IBEW Local 219
JONESBORO AR
IBEW Local 1516
KALISPELL MT
IBEW Local 768
KANSAS CITY KS
Tri-County Labor Council of Eastern Kansas AFL-CIO
KNOXVILLE TN
Knoxville Jobs with Justice
KOKOMO IN
UAW Local 685
LAKE CHARLES LA
IBEW Local 861
LANSING MI
IBEW Local 665
LAS CRUCES NM
South West New Mexico-CLC
LAS VEGAS NV
IATSE Local 720
IBEW Local 357
Laborers Local 872
Las Vegas Catholic Worker
LEVITTOWN NY
Long Island Center for Independent Living Inc
LEWISTON ID
Woodworkers W364 IAMAW
Lewiston / Clarkston CLC
LIMA OH
Regional Council Allentown AFL-CIO
LITTLE ROCK AR
Central Arkansas Building Construction & Trades
Central Arkansas Labor Council
Painters Local Union 424
LOS ANGELES CA
SEIU 434B
Service Employees Int'l Union Local 434B
UNITEHERE! Local 11
United Food & Commercial Workers Int'l Union UFCW 770
LOUISVILLE KY
Kentucky Jobs with Justice
Laborers Local 576
Louisville Professional Fire Fighters Local 345
LUCERNE PA
Indiana Armstrong Clarion CLC AFL-CIO
LUDLOW MA
Int'l Alliance of Theatrical & Stage Employees Local 186 MPMVO
MACEDONIA OH
UNITE HERE! Local 10
MARION OH
MID-OHIO AFL-CIO
METAIRIE LA
IBEW Local 130
MIDDLEBORO MA
IBEW Local 2322
MILFORD NH
IATSE Local 195 NH/ Lowell MA
MILLFIELD OH
ATLO Beacon Education Association
MILTON FL
Int'l Assoc of Machinists & Aerospace Workers Local 2777
MILWAUKEE WI
Sheet Metal Workers Local 18 Teamsters Local 200
MINNEAPOLIS MN
IATSE Local 13 Mpls/St Paul MN
Minneapolis Pipefitters Local 539
MISSOULA MT
AFM Local 498 Musicians of Western Montana
Plumbers & Pipefitters Local 459
MONROE LA
Iron Workers Local 710
MONTPELIER VT
Vermont Worker's Center/ Jobs with Justice Union
NASH TX
IBEW Local 301
NEW BRIGHTON MN
Millwright Local 548
NEW BRITAIN CT
American Federation of State County & Municipal Employees AFSCME Council 4
NEW HAVEN CT
IATSE Local 74
NEW PALTZ NY
Mid-Hudson Labor-Religion/Jobs with Justice
NEW YORK NY
Am Federation of Gov Employees Local 1151
Carpenters Local 608
Greater NY Labor-Religion Coalition
NEWBURGH NY
Hudson/Catskill Central Labor Council AFL-CIO
NEWPORT KY
Utility Workers Union of America Local 600
NORFOLK VA
Hampton Roads Bldg & Construction Trades Council
NORTH ANDOVER MA
Communications Workers of America 1365
NORTH HOLLYWOOD CA
CWA Local 9503
IATSE Local B-192
NORTHERN VIRGINIA VA
CWA Local 2204
OAKLAND CA
Motion Picture Machine Operators IATSE Local 169
ODESSA FL
Int'l Assoc of Machinists & Aerospace Workers Local 2319
OKLAHOMA CITY OK
AFGE Local 916
Int'l Union of Painters & Allied Trade 807
Oklahoma City Federation of Teachers/ Local 2309
ONEONTA NY
American Federation of Musicians AF
ORLANDO FL
IATSE Local 631
OSCEOLA IN
St Joseph Valley Project-Jobs with Justice
OSWEGO NY
The Oswego County Labor Council AFL-CIO
USW Local 4-00054
OVILLA TX
Transport Workers Union Local 555
Laborers Union 1392
PACIFICA CA
Grassroots Host
Parkersburg WV
Roofers Local 242 AFL-CIO
PASADENA CA
Int'l Brotherhood of Electrical Workers Local Union 11
PEORIA IL
Peoria Federation of Musicians Local 26
PERRYSBURG OH
Brotherhood of Locomotive Engineers & Trainmen Div 4
PHILADELPHIA PA
Am Federation of Government Employees Local 644
Philadelphia Jobs With Justice
PHOENIX AZ
CWA Arizona State Council AFL-CIO
IATSE Local 875
Professional Musicians of Arizona
AFM 3586
Unite Here 631
PITTSBURGH PA
Int'l Brotherhood of Electrical Workers Local 1919
United Electrical Radio & Machine Workers of America District Council 6
POCATELLO ID
Ironworkers Local 732
PORTLAND ME
Portland Organizing to Win Economic RIGHTS
PORTLAND OR
Am Federation of Musicians Local 99
IBEW LU 48
Machinists Union Local 63
PROVIDENCE RI
Green Party of Rhode Island
Rhode Island Jobs With Justice
PUEBLO CO
IBEW Local 667
READING PA
United Labor Council of Reading & Berks County
REDDICK FL
IBEW Local 222
RICHMOND VA
CWA Local 220
RIVIERA BEACH FL
Ironworkers Local 402
ROCK ISLAND IL
Roofer's Local 32
ROCKLEDGE FL
Brevard Federation of Teachers
ROCKY HILL CT
Am Federation of Musicians Local 400
ROCKY HILL IL
Roofers Local 9
ROMULUS MI
The Detroit Air Transport LL 141
ROSSFORD OH
Communication Workers of America 4319
SAGINAW MI
IBEW Local 557
SALEM OH
Columbiana County AFL-CIO
SALEM OR
Mid-Willamette Valley Jobs
SALT LAKE CITY UT
Pipe Fitters Plumbers HVAC UA Local 140
SAN ANTONIO TX
United Farm Workers of Texas
SAN DIEGO CA
IATSE Local 905
IATSE 122 Union
SAN FRANCISCO CA
Sign Display Local 510 ALF-CIO
United Taxicab Workers
SAN MATEO CA
Int'l Brotherhood of Electrical Workers Local 617
SANTA CLARA CA
Roofers & Waterproofers Local 95
SANTA MONICA CA
UFCW Local 1442
SHREVEPORT LA
IATSE 298
SOUTH BEND IN
IBEW Local 153
Int'l Alliance of Theatrical & Stage Employees Local 187
No Central Indiana AFL-CIO Central Labor Council
SOUTH LAKE TAHOE CA
Carpenters Local 1789
SOUTH PORTLAND ME
Teamsters Local 340
SPRINGFIELD MA
Teamsters Local 404
ST JOSEPH MO
IBEW Local 695
ST PETERSBURG FL
Am Federation of Musicians 427-721
STATEN ISLAND NY
United Brotherhood of Carpenters Local Union 20
STOCKTON CA
Teamsters Local 601
TEMPE AZ
Communication Workers of America Local 7050
TOA BAJA PUERTO RICO
Sheet Metal Workers Local 41
TOLEDO OH
NW Ohio Bldg & Construction Trades Council
TOPEKA KS
Kansas AFL-CIO
United Steelworkers Local 307
TRAVERSE CITY MI
IBEW Local 498
TULSA OK
CWA Local 6012
TUPELO MS
IBEW Local 102
VALLEJO CA
Amalgamated Transit Union 1225
VENICE FL
Suncoast Professional Fire Fighters & Paramedics Local 2546
WARREN OH
​Int'l Brotherhood of Electrical Workers 573
WASHINGTON DC
Communication Workers of America International US Canada Puerto Rico
CWA Local 2336
Labor Council for Latin American Advancement
Service Employees Int'l Union SEIU
WATERLOO IA
IAMAW Local 1728
IA State Council/CWA AFL-CIO Local 2093
WEST HARTFORD CT
IATSE Local 84
WICHITA KS
Central & Western KS BCTC
Plumbers & Pipefitters Local Union 441
Service Employees Int'l Union Local 513
WILLIAMSPORT MD
CWA-Local 2105
WILMINGTON DE
IBEW Local 1238
YOUNGSTOWN OH
Laborers Int'l Union of North America 125
ZANESVILLE OH
Muskingum County CLC AFL-CIO

SALT LAKE CITY
Coalition of Religious Communities
Cross Roads Urban Center
JEDI Women-Justice Economic Dignity & Independence for Women
Jobs With Justice
Mormons for Equity & Social Justice
Pipe Fitters Plumbers HVAC UA Local 140
Utah Issues Center for Poverty Research & Action

BARRE
Good Samaritan Haven
BRATTLEBORO
Brattleboro Area Community Land Trust
Brattleboro Housing & Resources Council
BURLINGTON
COTS
Seventh Generation
Sisters of Mercy Vermont Leadership Team
Vermont Affordable Housing Coalition *
Vermont Coalition for the Homeless
Vermont Livable Wage Campaign
RANDOLPH
Randolph Area Community Development Community
MONTPELIER
Vermont Worker's Center/Jobs with Justice (Union)
Vermont Center for Independent Living
SOUTH BURLINGTON
Ben & Jerry's Foundation
* Renewal

Capital Area Food Bank of Maryland Virginia & Washington DC
ARLINGTON
Arlington Street Peoples Associated Network
Housing Development Corporation
Our Lady Queen of Peace RC Church
RPJ Housing Development Corporation
ALEXANDRIA
Community Lodgings
Northern Virginia Interfaith Coalition for Justice
Tenants & Workers Committee
Virginia Coalition for the Homeless
CHARLOTTESVILLE
SUUVA/CWA
Virginia Organizing Project
CHERITON
Moonrise Jewelry Inc
DALE CITY
Disabled Action Committee
Falls Church
Homestretch Inc
Front Royal
Mountain Mystic
LYNCHBURG
Miriam's House Inc
MILLWOOD
Body Harmony
NORFOLK
Giovanni Leather Works
Hampton Roads Building & Construction Trades Council
Norfolk Homeless Consortium
Tomorrow's World
Northern Virginia
CWA Local 2204
PEARISBURG
Giles County Housing & Development Corp
PETERSBURG
CARES Inc
RICHMOND
CWA Local 2201
Project Community Inc
Virginia Interfaith Center for Public Policy *
ROANOKE
YWCA of Roanoke Valley
VIENNA
Social Action Linking Together *
WILMINGTON
Line Sync Architecture
* Renewal

American Friends Service Committee
Washington Low Income Housing Network
ABERDEEN
UNITE HERE Local 791
BAINBRIDGE ISLAND
Progressive Kid
PUYALLUP
Helping Hand House
SEATTLE
Catherine Booth House
Families in Shelters
Fist Place School
One Childhood
Real Change
St Martin De Porres
SAMCO
SPOKANE
Peace & Justice Action League
TACOMA
The Metropolitan Development Council
Resident Peaceniks
Tacoma/Pierce County Coalition for the Homeless
United Way & Associated Ministries
Washington State Coalition for the Homeless
YAKIMA
Yakima County Coalition For the Homeless